kits for kids
Kits for Kids provides creativity, imagination, self expression and healing through art for underprivileged children either homeless, in foster care or experiencing hardships. For these children, feelings of isolation go beyond what we have experienced due to the recent covid-19 pandemic and often struggle with long term effects of their circumstances.
Art provides an outlet for self expression and communication, supports emotional and mental wellness, builds confidence and stimulates intellectual sensory and essential motor skills. For some children, art is their only way to express their emotions which opens the lines of communication, help and healing.
WANT TO HELP?
Your contribution gives children an activity filled with hours of enrichment, entertainment and self care, complete with everything they will need to create a masterpiece as beautiful and as unique as they are.
Your donations go towards cost of supplies for painting kits, packaging, postage, gas and other expenses which allow us to gift these kits to deserving children. We promise to give you updates, pictures and more as we embark on this journey! No donation is too small and every share helps our cause.
HOW TO HELP
To sponsor a kit for a deserving child, simply add the Kits for Kids product and preferred product donation quantity to your cart, and we'll make sure the design corresponds to the recipients age group, interests and handle the rest.
Each kit includes
A colorful paint design, paired to meet the specific needs of each child

An 8x10 inch canvas (Some come pre-sketched, other designs don't require sketching)

A unique set of paint brushes and/or sponges

A unique set of water-based acrylic paints

Easy to follow, step-by-step written and image based printed instructions

And a hand written note from one child to another
All donations will be shipped or in some cases, hand dellivered by our team to the designated recipient. An email with the organization cause and donation will be sent to the generous donor as an update when recieved. For confidentiality purposes, we will typically not include the specific childs picture or information for their privacy.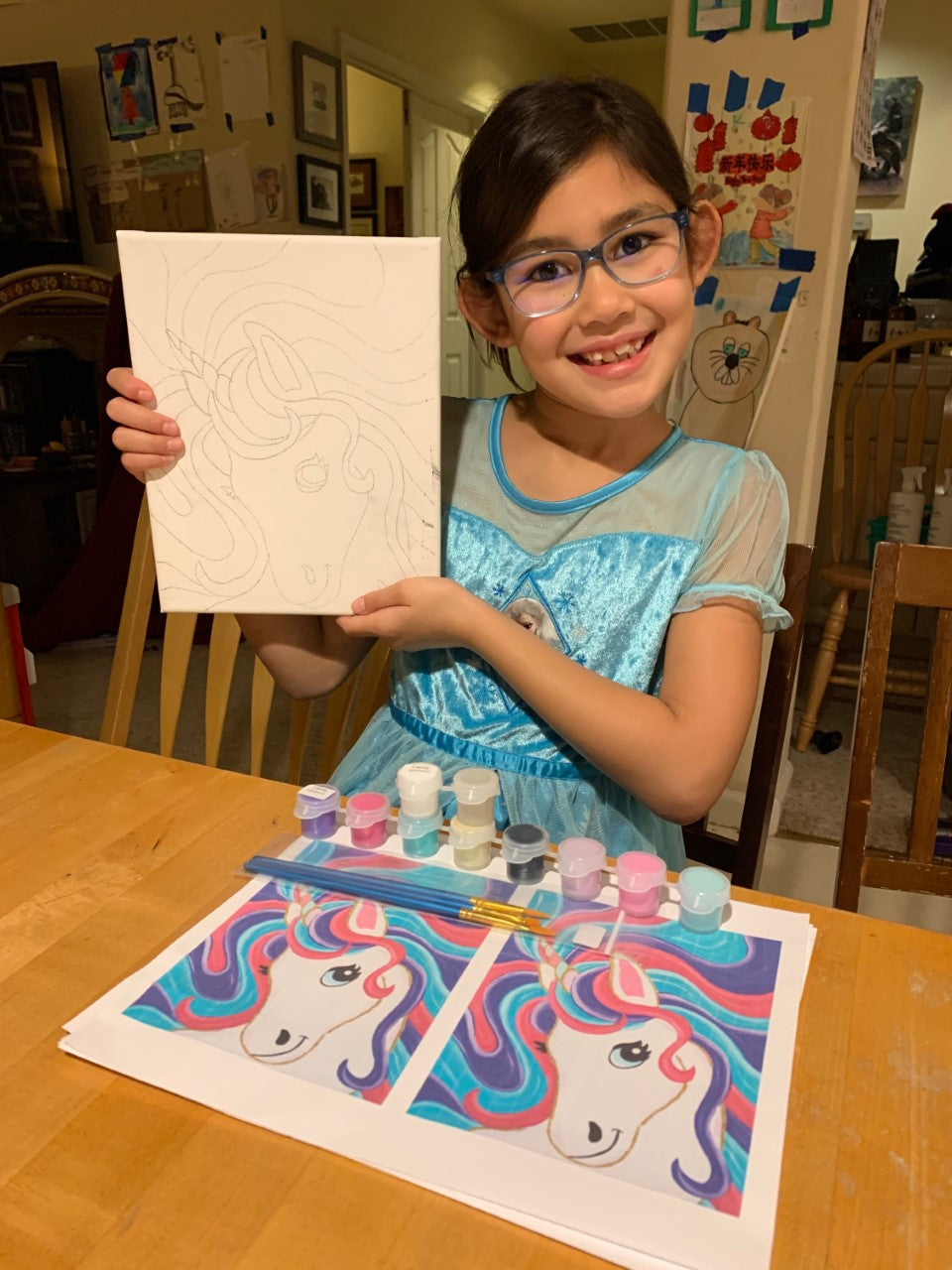 >
<
How it started
Sarah and Maliah are the youngest members of a family owned business that offers a variety of painting activities to communities across the United States.

Filled with the joys of crafting and painting, we want to share our experiences with other children that wouldn't otherwise have access to. Ambitious to give back, our goal is to raise awareness of our Kits For Kids program in order to reach more children across our nation. Every kit sponsored provides a crucial self-care activity during challenging times and creates lasting memories for a deserving child.

With the help of our community, faith in acts of kindness, our painting resources, time and love, we believe we can add a splash of color and joy to children in need with your support!
PARTNERS
Testimonials
At SplashKits, we work hard to provide you with an amazing, unique and memorable experience. Painting is our passion, but your enjoyment is our mission. See what other happy customers have to say about us and join our community! The greatest gift a customer can offer is their 5-Star review.
Sydney A.
These kits are great! I got a couple for a girls night in, and we had a blast. They were so easy to use- just follow the directions! Even though I am far from an artist, it turned out great. The kits have everything you could need so it made it very easy to set up and just go for it. Would do again!
Heather R.
I feel so grateful for finding Splash Kits, a wonderful service that was able to come to our office and supply everything for us. I was blown away by the artistic ability she brought out of all my coworkers and our finished pieces will brighten our office for years to come!!! Thank you for existing!!!
Karen L.
I have to start with how cute the packaging is. It came in a pretty pink glittery box perfect for the cute girly birthday girl. She was excited to discover that inside the kit, everything she needed to paint an awesome rainbow unicorn were there.
Disclosure: We are NOT a 501c3 non-profit organization: We are NOT a tax-exempt organization or charity. We ARE a family local to the Parkland, Florida USA looking to raise funds in order to give back to our community (U.S. based) while utilizing our reduced costs for supplies and other resources from our family owned business to aid this fundraisers cause to help underprivileged children. Please feel free to contact us if you have any questions.