Schools and fundraisers
Are you looking for ways to raise funds for school programs such as PTA, graduation, field trips, after school activities, or simply show employee appreciation and school spirit? Splashkits can help support your cause while bringing people together in-person or virtually from the comfort of their own home! From fundraisers and auctions, to classroom wishlists and more, we have you covered.
Paint night fundraiser
SplashKits offers fun, do-it-yourself, painting kits that can be done in a group setting or from the comfort of everyones own home. Great for all ages with optional in-person (on-site) or live virtual instruction. We encourage employees, students, families, friends and colleagues to participate so the fundraising potential is limitless. We can accommodate various group sizes from 8 persons to 2000 per event. Multiple events can be scheduled where the maximum seats have been met such as 100 participants per Zoom session. We can host the entire event or simply be a presenter during your virtual event to ensure settings for the presentation meet your district requirements. Host classroom, grade level, whole school, or event specific fundraisers and why not run a passive fundraiser all year long for continued campaign success! The fundraising in endless.
Our Contribution
We offer custom paint designs to support school spirit, secure online checkout for families to purchase their supplies, customer selected USPS shipping or free curbside store pick up located in Parkland, Florida. We can even create a custom flyer for your event and encourage creating a reward system such as a classroom "party" for classes that have the most participation.
Splashkits will donate 20% of each kit purchase to your school for the event and is paid in full on the Monday following the live event via PayPal or check. That 20% can go entirely towards your cause or you can choose to pass along a portion of the 20% to your participants such as 5% or 10% savings using a custom discount code that we provide.
Fundraising has never been so easy! With little effort on your part as we can manage everything from purchasing, order processing, supply distribution, zoom hosting, flyer creation and email communications or any part as preferred.
What you get
Our painting kits are $25.99 (plus tax and shipping) and include everything each painter will need to create their own masterpiece. Virtual instruction is provided with purchase of 20 or more kits per event. In-person instruction may be available for larger groups. Bulk purchase discounts are also available where independent fundraising or sponsorship has already been secured. Contact us directly for more details regarding bulk purchase discounts for schools.
Participants will need to supply a cup of water for rinsing brushes, a paper towel for drying brushes and a paper plate or palette for mixing paints aside from purchasing their kit. 5 minutes set up and 5-minute cleanup.
Each kit includes
1 canvas
1 set of paints
1 set of brushes
Digital instructions
*Printed options available for additional charge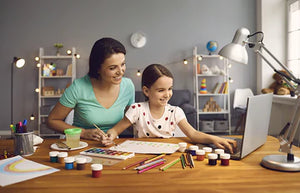 Charter school community partner for enrichment programs
We would love to become one of your community partners. We offer home-based acrylic painting kits for all ages and skill levels with step-by-step digital instructions that help nurture and develop confidence, skill, creative expression and more! Whether you are a charter school administrator or student family looking to enrich students academics, we can support you! We would love to chat and learn more about how we can support your program.
SOME OF OUR PARTNERED SCHOOLS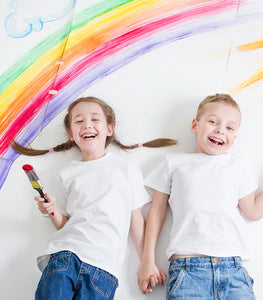 Wishlists
Are you looking for classroom, after school program or general art project supplies by donation? Start a wishlist today! Create a custom wishlist with your preferred product selection, share it with others via email and/or social media and manage, edit and track wishlist all from your account page. Guests do not have to create an account to purchase from your list, we will ship purchased items directly to your school and can even hold them for a preset ship date too!
Create a wishlist
Simply click the heart on each products page to add to your wishlist.
Contact us
Can't find what you're looking for, interested in a custom event or have more questions? Contact us today.
Contact us by email
Location
Headquarters & Fulfillment Center
Parkland, Florida, USA

Mon - Fri, 9am - 8pm EST
Sat - Sun, 9am - 8pm EST

(510) 709-5823