VIRTUAL EVENTS
Add a splash of color from the comfort of your home! Join one of our live virtual events and we will ship you everything you need to create your own masterpiece with step by step instructions from one of our live virtual art instructors. No experience necessary to have a good time. Join on your own or share this page with your friends, family members and colleagues. But what if something comes up and I can't make the live event? No worries! Your kit includes step by step digital instructions so you can do-it-yourself at a more convenient time for you.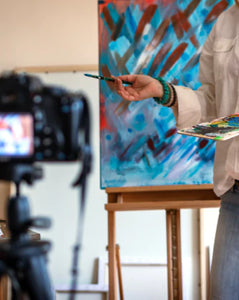 HOW IT WORKS
Choose an event
Select the number of tickets/kits you need
Choose delivery method: Pick up or shipping
Confirm cart details and checkout
Receive your kit & virtual event invite
Set up supplies and join virtual event via Zoom
Paint your heart out and share your masterpiece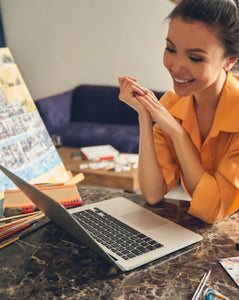 Testimonials
At SplashKits, we work hard to provide you with an amazing, unique and memorable experience. Painting is our passion, but your enjoyment is our mission. See what other happy customers have to say about us and join our community! The greatest gift a customer can offer is their 5-Star review.
Sydney A.
These kits are great! I got a couple for a girls night in, and we had a blast. They were so easy to use- just follow the directions! Even though I am far from an artist, it turned out great. The kits have everything you could need so it made it very easy to set up and just go for it. Would do again!
Heather R.
I feel so grateful for finding SplashKits, a wonderful service that was able to come to our office and supply everything for us. I was blown away by the artistic ability she brought out of all my coworkers and our finished pieces will brighten our office for years to come!!! Thank you for existing!!!
Karen L.
I have to start with how cute the packaging is. It came in a pretty pink glittery box perfect for the cute girly birthday girl. She was excited to discover that inside the kit, everything she needed to paint an awesome rainbow unicorn were there
Location
Headquarters & Fulfillment Center
Parkland, Florida, USA

Mon - Fri, 9am - 8pm EST
Sat - Sun, 9am - 8pm EST

(510) 709-5823